I'm wondering if Nigel instituted this British theme because there's just way too many British artists churning out hits in America. Check out this chart (all the British related hits are circled):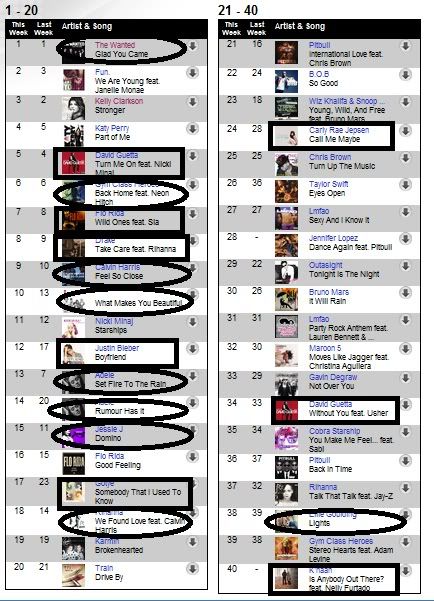 The Wanted, Neon Hitch, Calvin Harris X2, One Direction, Adele X2, Jessie J, Ellie Goulding. All those peops are repping for the UK.
The ones in squared boxes make up the rest of the internationals. David Guetta X2, Sia, Gotye,...
Even Canada's representing--Drake, Justin Bieber, Carly Rae Jepsen, K'Naan/Nelly Furtado....
Hell, of the top 20 songs in America right now, 13 of the 20 are from international countries! The state of American music right now....well, let's just say American Idol only has Kelly Clarkson, and we're being inundated by international music because apparently, American music just can't pull its weight in gold anymore. American Idol isn't helping that because the franchise's ability to produce top 40 type stars has more or less gone down the drain--only Kelly Clarkson has any staying power in this shindig. Doesn't help that XFUK and Canadian Idol are also representing with their more current winners, and Idol's "current" winners are nowhere to be found on this list.
So I definitely believe the first set of songs is definitely going to be current British music, based on this chart.