I know the show's canceled, but having already done this for the Voice's Season 5 and the beginnings of Season 6 (see
here
) and also having done rudimentary work on AI13 with this metric (see
here
), we can make cross comparisons between the three shows. It's not super exact, but it's the best we can do with these numbers, since social media is everywhere for all three shows.
First, here's the contestant ranks, organized by buzz and performance levels. There will be revelations...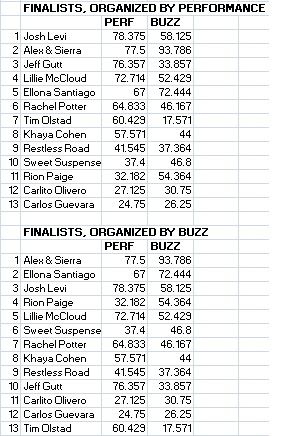 Yes. Look at Alex and Sierra's buzz score. A 94. That's an insane mark. And that's for a full reason. On Idol, Malaya Watson currently has the highest buzz (at 88.25) but a lot of that seems to be allocated on the Filipino aspect, and it's way too early, not to mention her performance is merely 56.25--compared to A&S's 77...and for the Voice, Tessanne Chin had the highest buzz, but was only! a 79.2 by comparison. That makes A&S look very interesting when they debut their album/singles, because they had a buzz virtually throughout.
Somehow...Josh Levi had the best performing ability, and the third best buzz...and even with an initial save, he still was booted at the midcard. Guess anything that straddles towards urban just doesn't get votes, even with the performance and buzz are there. Restless Road is a concept that was massively pimped by Simon but only had the 9th best buzz throughout their run...pathetic. No wonder why they broke up.
Also, look at Carlito Olivero's performing score. Lol. That's lower than every one in last season of the Voice and also lower than everyone on Idol currently. He wouldn't be cast there.
Individual contestant ranks: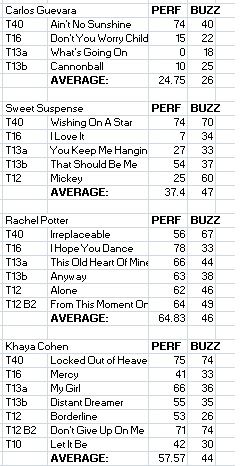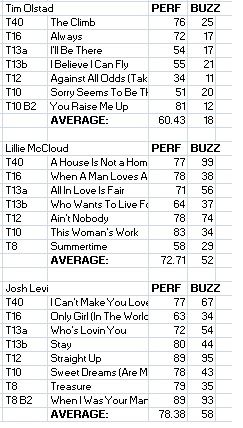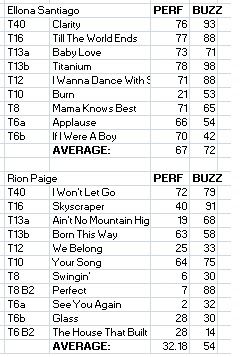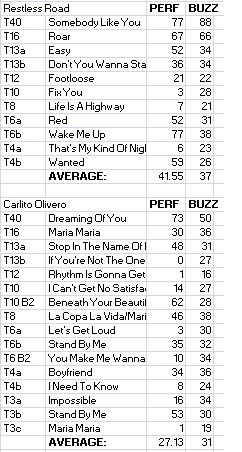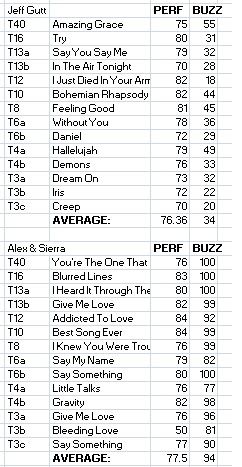 Performances: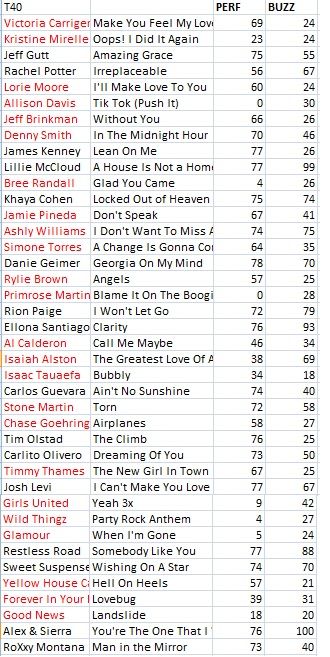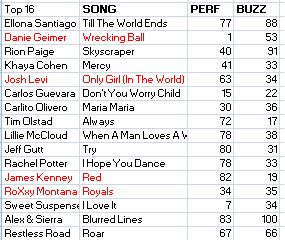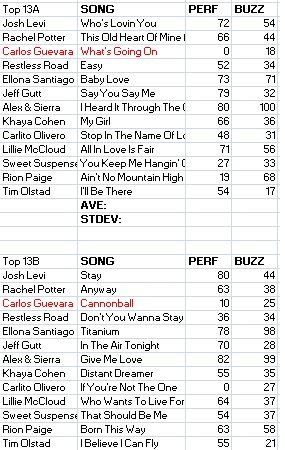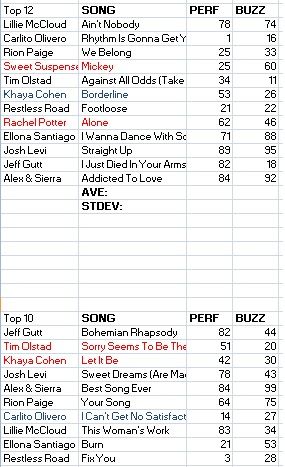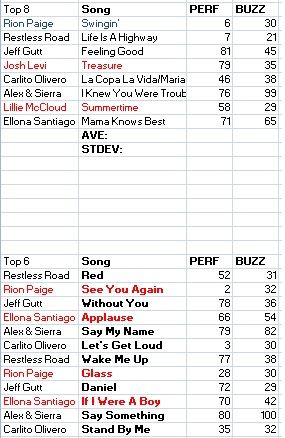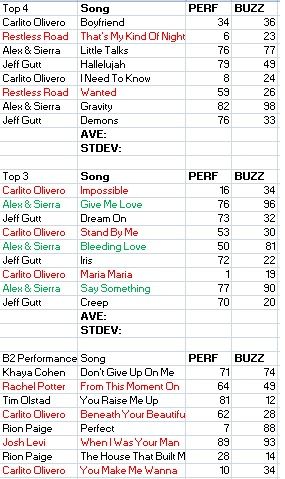 Take the time to digest! =) Of note is that I wanted to do XFUS2, but it appears that XFUS took down all the pertinent youtubes. Which sucks, but it is what it is.
Hey guys; great news! I know XFUS2 is the most popular among XF fans, so I've used some backchannel social networking aspects to get social media data. Here's what I have:
Let's organize by contestant performance buzz and performance level, as usual: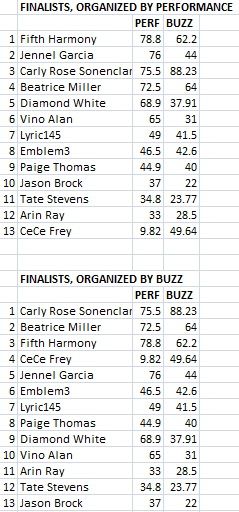 Revelations! Fifth Harmony had the best performance quality throughout, and the third best buzz. Had Simon invested in them earlier, perhaps they could have bottled more of it. Carly Rose was the buzziest contestant, and it wasn't even close; she's not as good Alex And Sierra was in XFUS3 in terms of buzz, and her performance quality is slightly lower, though. What's funny is that the top five contestants in terms of performance level are all females. This was a talented girls' season, especially with the younger girl contestants. What's funny is look at winner Tate Stevens--he had the second least buzz all season, and was 10th in performance level--and he won. That goes to show you how strong that country vote was, and it also explains why the label didn't even bother investing--he was awful, in just about every way. Tate also had two single-digit clunkers in his resume, not exactly something you want in a winner. Not that I need numbers to show it, but here they are served up in a platter. Also look at Simon's prize pet Emblem3--their performances and buzz were both mediocre in the aggregate, and both really slipped over the course of the season as we'll see below--their buzz slipped a ton after "One Day", and after their first four performances they took a tumble in performance quality. Still, they had an average performance and buzz score about six points higher than faux created Restless Road, so they were better. Oh, and one more thing: Beatrice Miller is really underrated.
Let's move on to the contestants themselves for further analysis: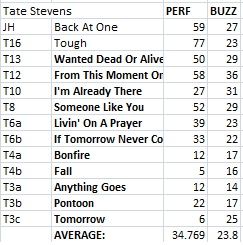 Now let's look at the competition: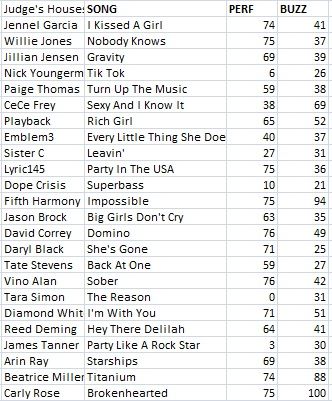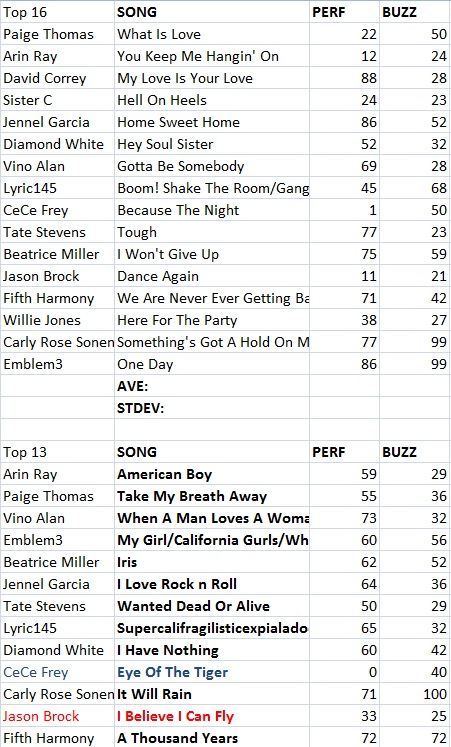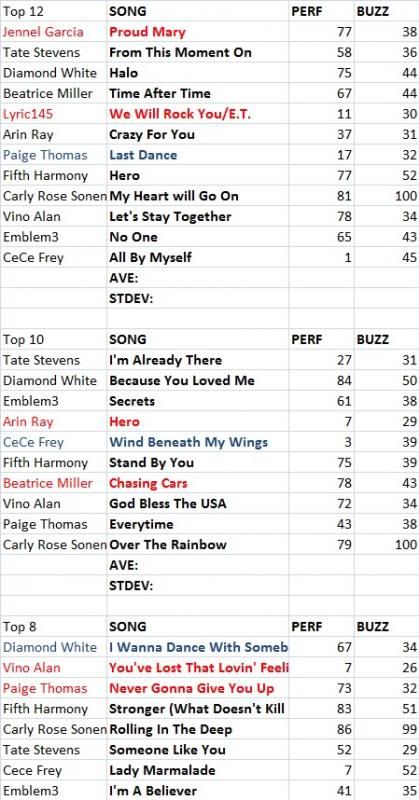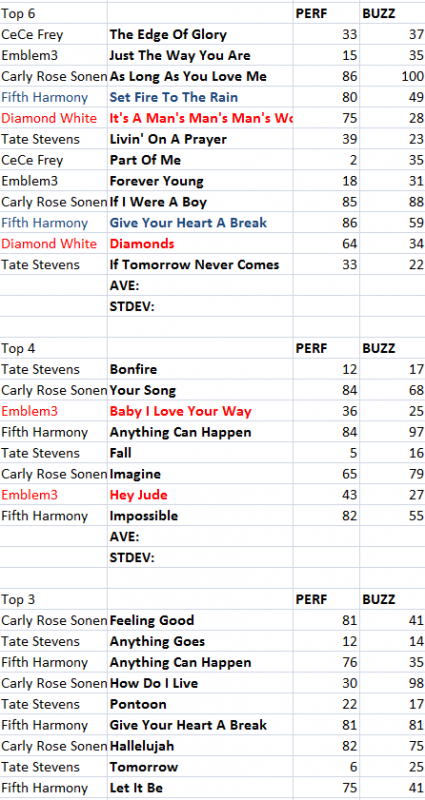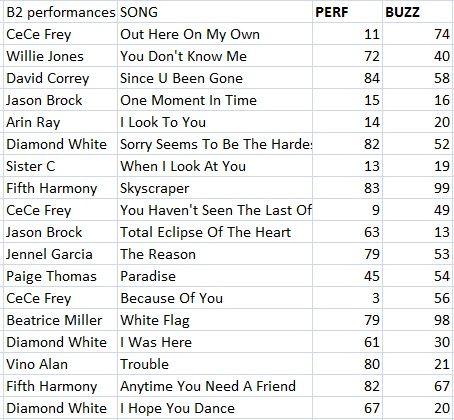 A lot to digest there, but man, that David Correy was robbed: I did the social media stuff before all the Brazilians started swarming over those networks a few months later, and even his top 16 performance was well received. This season was marked by a ton of bad moves: CeCe Frey might possibly be the worst contestant ever in these competitions, with a performance score of 7; for reference, the worst in season 3, Carlos Guevara, is about 24, or more than 3x better than CeCe was. Even Carlito Olivero was nearly 4x better than her. CeCe had 10 performances; she threw in 8 single-digit clunkers. Awful. The fact that the judges kept her over Beatrice Miller was hilariously awful, and she outlasted Jennel Garcia, another who had a lot of potential as well. Tate Stevens and possibly Emblem3 also advanced too far over the underrated Diamond White and the aforementioned Miller. That's why the season was a letdown; the wrong people surfaced to the top, due to the manipulation shenanigans. It's a talented season, but very heavy-handed. Now we even have the Carly Rose fans (and she had a ton based on the season) who are pissed due to the lack of exposure off show now.
I've also done XFUS1 now. I wanted to do the judges' houses portion, but scanning the social media archives I'm missing data points for quite a few contestants, so I decided to skip it. It's a bit unfortunate, since several contestants had moments in JH; having done it for XFUS2, it makes for more interesting comparisons.
Anyway, here's the contestants by rank of performance and buzz. Note that LeRoy Bell had the best overall performances, then we have a virtual three way tie of our top three--Chris, Melanie and Josh and then everyone else. Melanie and Astro were the most buzzed about contestants, then a little of Rachel and Drew. Check below: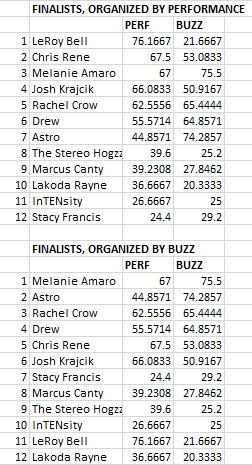 And here are the contestants (without their JH performances
)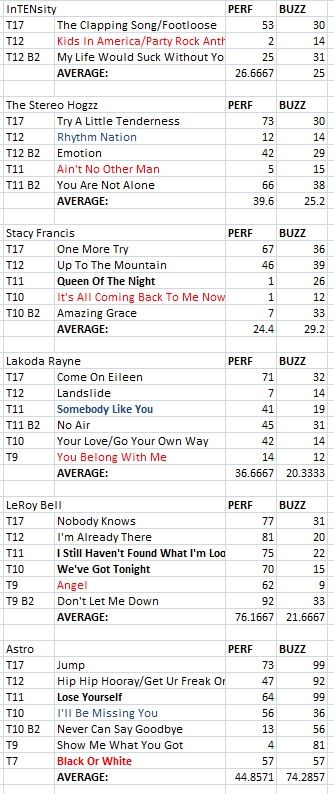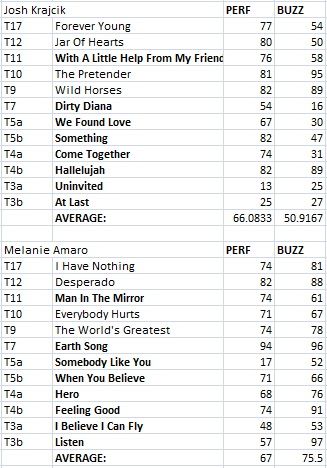 And here are the performances: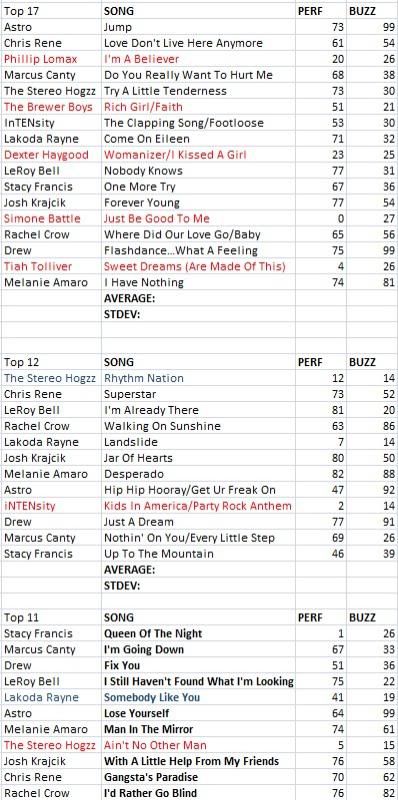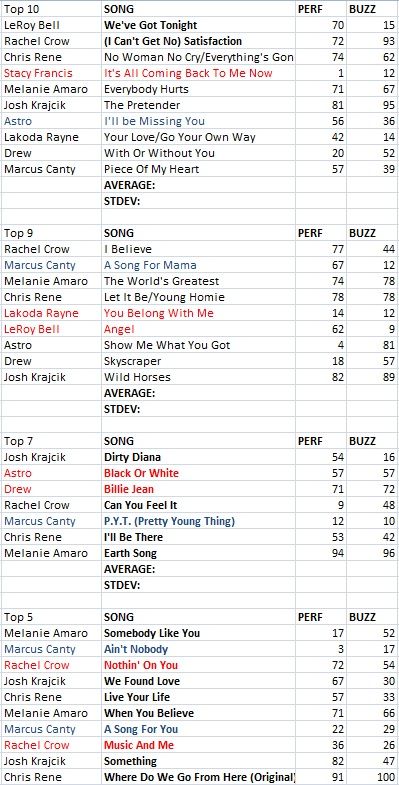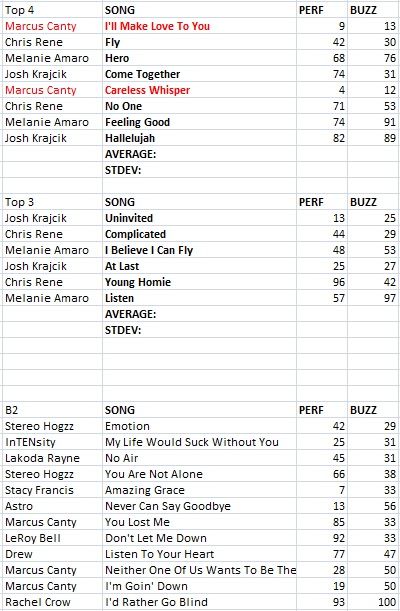 The biggest problem with XF was producer shenanigans, particularly with ramming Marcus Canty down America's throats. Canty was actually decent through half of his performances (not great, but decent), but he fell off a cliff starting from when he first hit the bottom three, around top 9. From there, he outlasted the very underrated LeRoy Bell, who got eliminated despite putting up a showstopping performance as far as save me songs go, and he also outlasted Drew and Rachel Crow, who also put showstopping performances, particularly Rachel. No wonder she cried, especially since aside from his first B3 performance, Marcus's next two B3 performances were absolute clunkers. He should have been eliminated at the top 7 mark, which would have allowed two decent-singing, decent-sized buzz contestants to duke it out in Drew and Rachel. Of note is that Drew was already faltering--she had two absolute clunkers squeezed in between very good performances, and her buzz was also fading along with the clunkers. The groups had zero buzz and after top 17 week delivered clunker after clunker.
And here's a little map comparing contestants across all seasons: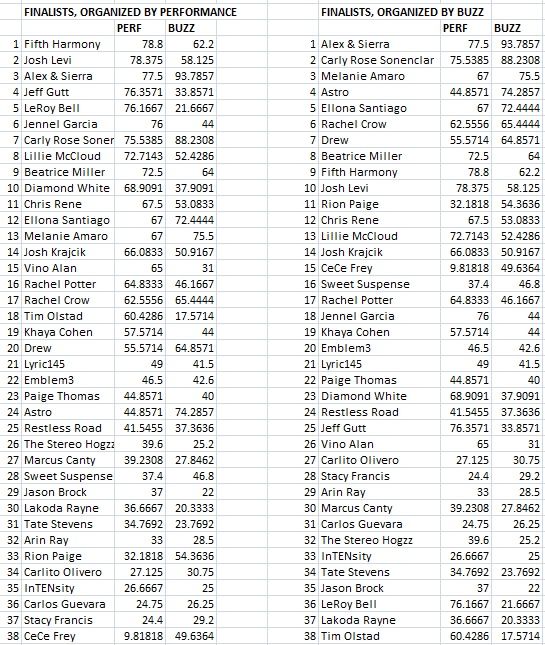 And here are the buzziest and best overall performances: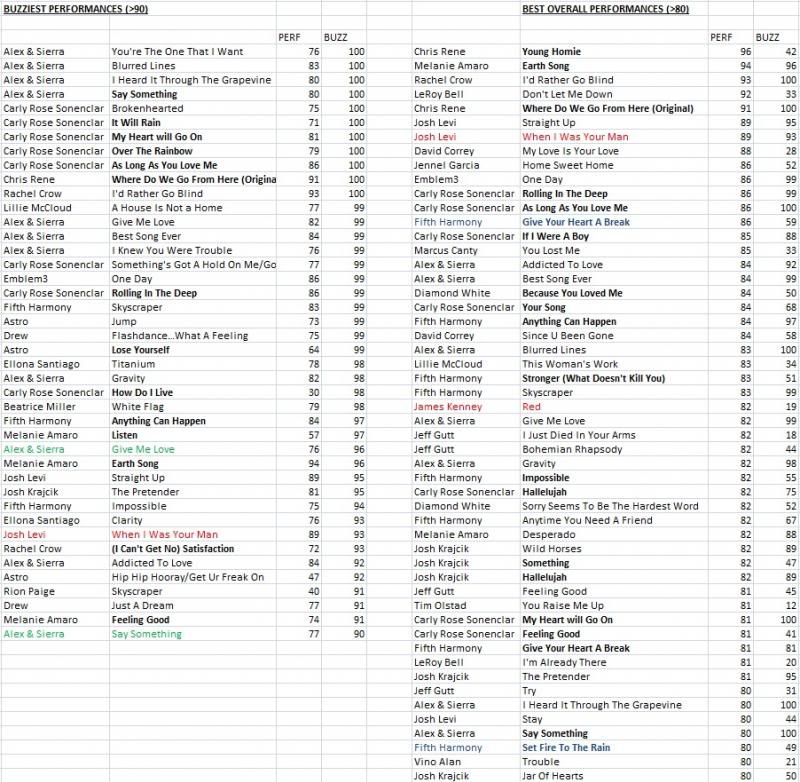 Least buzzy, and worst overall performances: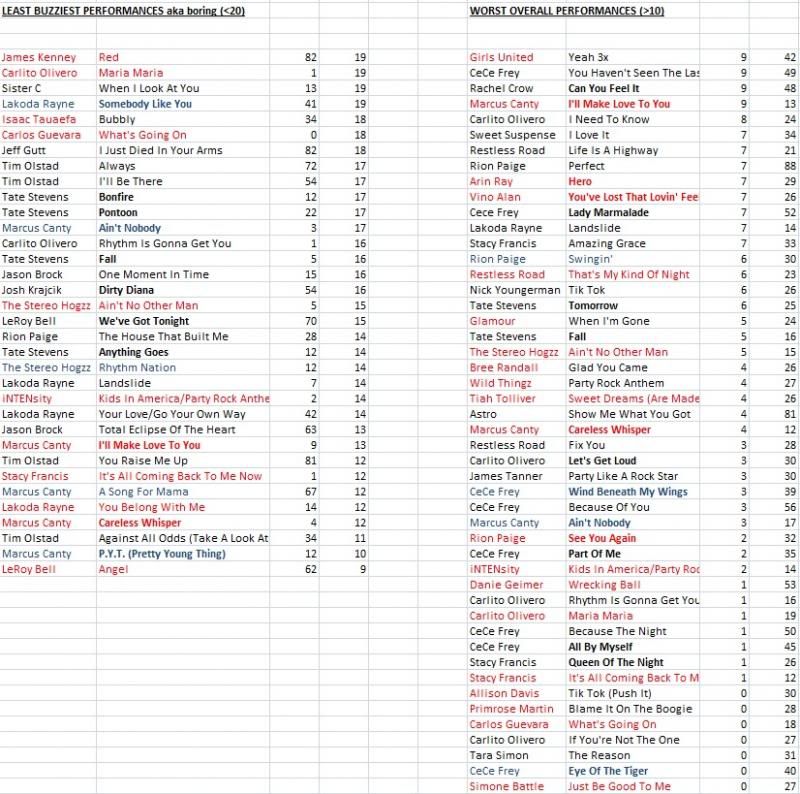 One thing I like to look at are "irregular performances". For example, there can be a decent to good performance >50 with little buzz <50. Or there can be a buzzy performance >50 that is not performed that well <50.
So, from that list above, here are the decent to good performances with little buzz:
James Kenney "Red"
Jeff Gutt "I Just Died In Your Arms"
Tim Olstad "Always"
Tim Olstad "I'll Be There"
Josh Krajcik "Dirty Diana"
LeRoy Bell "We've Got Tonight"
Jason Brock "Total Eclipse Of The Heart"
Tim Olstad "You Raise Me Up"
Marcus Canty "A Song For Mama"
LeRoy Bell "Angel".
Hmmmm. I sense a trend.
And here are the buzzy performances that are not performed well:
Carly Rose Sonenclar "How Do I Live"
Astro "Hip Hip Hooray/Get Ur Freak On"
Rion Paige "Skyscraper"
Then there are also the well sung (>80), well buzzed about (>70) performances. These are often what we call showstoppers, in the singing competition lexicon. Here they are:
Melanie Amaro "Earth Song"
Rachel Crow B2 performance "I'd Rather Go Blind"
Chris Rene "Where Do We Go From Here" (original)
Josh Levi "Straight Up"
Josh Levi B2 performance ""When I Was Your Man"
Emblem3 "One Day"
Carly Rose Sonenclar "Rolling In The Deep"
Carly Rose Sonenclar "As Long As You Love Me"
Carly Rose Sonenclar "If I Were A Boy"
Alex & Sierra "Addicted To Love"
Alex & Sierra "Best Song Ever"
Fifth Harmony "Anything Can Happen"
Alex & Sierra "Blurred Lines"
Fifth Harmony B2 performance "Skyscraper"
Alex & Sierra "Give Me Love"
Alex & Sierra "Gravity"
Carly Rose Sonenclar "Hallelujah"
Melanie Amaro "Desperado"
Josh Krajcik "Wild Horses"
Josh Krajcik "Hallelujah"
Carly Rose Sonenclar "My Heart Will Go On"
Fifth Harmony with Demi Lovato "Give Your Heart A Break"
Josh Krajcik ""The Pretender"
Alex & Sierra "I Heard It Through the Grapevine"
Alex & Sierra "Say Something"
Yay. It's an Alex and Sierra and Carly Rose list!
Then there are also the truly awfully performed songs (<10), with little buzz (<20). These songs completely lack purpose and are a waste of space. Here they are:
Marcus Canty "I'll Make Love To You"
Lakoda Rayne "Landslide"
Tate Stevens "Fall"
The Stereo Hogzz "Ain't No Other Man"
Marcus Canty ""Careless Whisper"
Marcus Canty "Ain't Nobody"
inTENsity "Kids in America/ Party Rock Anthem"
Carlito Olivero "Rhythm is Gonna Get You"
Carlito Olivero T3 "Maria Maria"
Stacy Francis "It's All Coming Back To Me"
Carlos Guevara "What's Going On"
Yep. It's a Marcus Canty and Carlito Olivero list. The little engines that could?
And here's what everyone is looking for..in honor of the top 40 charts, let's create the top 40 best and worst performances across all XFUS's, by adding up the performance and buzz values. Without further ado: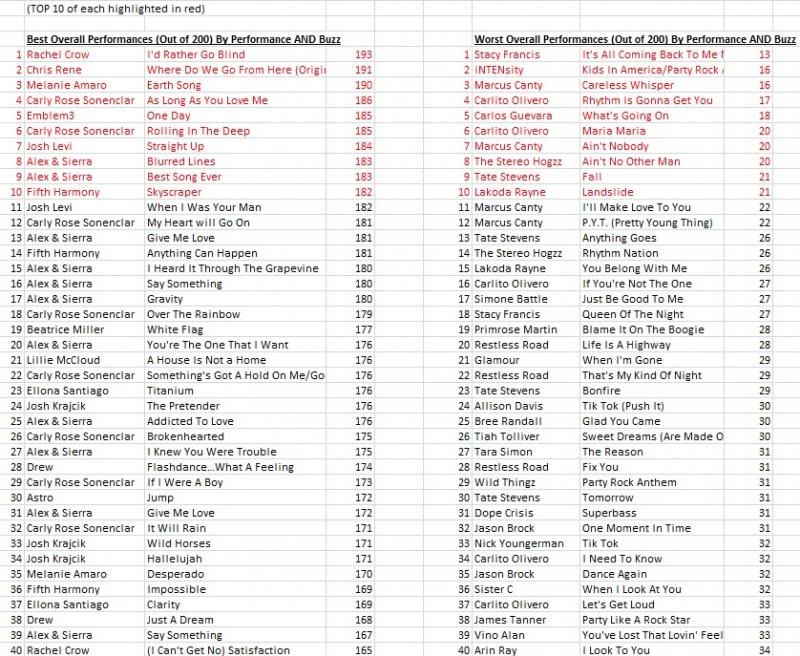 Let's talk "perfect games" here, where performance scores are always >50:
*There is an asterisk if the collaboration performance at the finale was below 50
Rachel Potter
Lillie McCloud
Josh Levi
Jeff Gutt
Alex & Sierra
Jennel Garcia
Beatrice Miller
Diamond White
Fifth Harmony
Carly Rose Sonenclar*
LeRoy Bell
Of the 11 contestants with perfect games, 4 of them are overs. 2 groups. 4 girls (3 of them in the 15-17 age bracket). And one boy.
Just keep that in mind.
And there is also the perfect buzz game, where buzz scores are always above 50.
Alex & Sierra
Melanie Amaro
But Carly Rose was close. Only two make up this list. Funny how Melanie had a lot of buzz during her season but didn't amount to much.